Detailing
The Benefits of Car Detailing
Regular preventative maintenance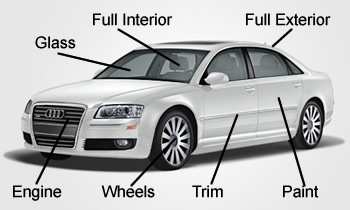 Some think detailing is a luxury but in fact it should be considered regular maintenance.  Having your car washed and waxed every three months will keep the paint in excellent condition.  Without a coat of wax on your vehicle your car is exposed to harmful UV rays, road grime, salt, acid rain etc. which can cause your paint to oxidize and over time corrode and rust. By having your car waxed a few times per year you can drastically increase the resale value of your car.  On average an interior and exterior detail can boost the resale value by 10% to 15%. So if you are selling your car for $10,000, that could be an extra $1000 to $1500 in your pocket!
The feeling of a freshly detailed car
Having your car detailed makes it feel like the day you bought it.  Instead of dreading to set foot into a dull, dirty, and funky smelling car, a detail can completely change the relationship with your beloved.  A polish and wax can give your vehicle that deep gloss shine that will attract the eyes of all those you cruise by.  With an immaculate interior, you do not have to excuse yourself for your unkempt car when giving rides to others.  Instead you will receive countless complements on a spotless interior.
Neglected cars can be a safety hazard
Dirty windows and mirrors can severely decrease visibility especially when the sun is shining directly onto your windshield.  Streak marks can create a haze that decreases visibility.  Also, oxidized and cloudy headlights are extremely dangerous and damper the brightness of your headlights by up to 80%.  Our headlight restoration services can save you hundreds of dollars from replacing your headlights and tailights.